May 7th
Class Description: Mother's Day Mug Rug
What you will learn: How to do a Mug Rug made fully in the hoop.
Supplies List: 5"X 7" hoop or appropriate hoop for your project
Stabilizer, No Show Mesh Batting, scrap to fit hoop Design if you are choosing your own design for the Mug Rug You will also need your embroidery machine, cords, embroidery unit, threads and a bobbin The class is free as always. I have designs for the class or you may choose your own.
Instructor Information: Jackie Branscum Number: 405-654-9012 or Jackie-b1975@att.net
May 21st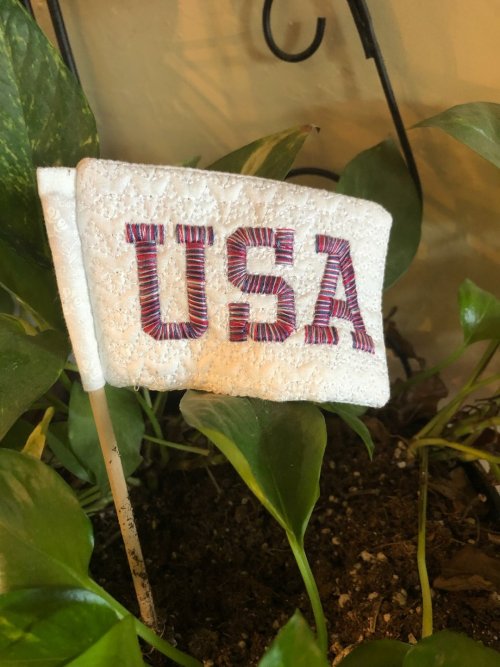 Class Description: Memorial Day Plant flags
What you will learn: How to do a small in the hoop design suitable to put in planters or gift baskets
Supplies List: 5"X 7" hoop or appropriate hoop for your project
Stabilizer: No Show Mesh Fabric: Scrap fabrics or 2 pieces of 5"X7" fabrics, one or the front and one for the back Design if you are choosing your own project You will also need your embroidery machine, cords, embroidery unit, threads and a bobbin
The class is free as always. I have designs for the class or you may choose your own. Instructor Information: Jackie Branscum Number: 405-654-9012 or Jackie-b1975@att.net
May 28th
Class Description: Spring Yard Flag
What you will learn: How to embroider a fill design on a piece of canvas, broadcloth or burlap
Supplies List: 5"X 7" hoop or appropriate hoop for your project Stabilizer: No show Mesh or a medium cutaway (A tearaway may be suitable for canvas fabrics) Fabric for the front and back of the flag. I typically make my flags 12" wide by 15-18" long. So I would start with fabric cut to 13" wide by 18"(need 2 pieces). I often make my flags 2 sided with different designs on each side. You will also need your embroidery machine, cords, embroidery unit, threads and a bobbin
The class is free as always. I have designs for the class or you may choose your own. Instructor Information: Jackie Branscum Number: 405-654-9012 or Jackie-b1975@att.net